WORLD FAMOUS SEASONING – At St. Elmo Steak House, we have delighted guests with our fiery flavors and flavorful steaks since 1902. Our renowned St. Elmo Seasoning goes on nearly everything we serve in our restaurant. Evaporated cane juice provides a hint of sweetness and paprika brightens the dish, making it easy to leave over-salted steaks in the past with this flavorful rub. .

CREAMY HORSERADISH – Nicknamed "Slammer Sauce" by our grill cooks, this savory flavor with a kick of horseradish complements steaks, and it's even better on roast beef, ham, and other sandwiches. This sauce is made with zero artificial ingredients or preservatives. Boasting a powerful and refreshing taste, this mouthwatering horseradish sauce is sure to brighten your plate.

SIGNATURE COCKTAIL SAUCE – Fresh-ground horseradish root gives this sauce it's uniquely mouthwatering taste, making it the ideal pairing for jumbo shrimp and other seafood. Balanced with a refreshing tomato paste and hints of lemon, the St. Elmo Cocktail Sauce shocks senses and delights the palate.

FAMOUS CLASSIC STEAK SAUCE – Bold, rich, and one-of-a-kind. Izzy's Sauce is a classic steakhouse sauce, crafted with rich flavors of orange zest, brandy, and butter. It complements even the most perfectly cooked steak and tastes great on chops, chicken, and burgers. It's so good, it may be worth the side-eye glances from steak purists.

STORAGE – Refrigerate sauce bottles upon arrival. St. Elmo Cocktail Sauce should be stored cold and not left at room temperature longer than 7-10 days or it will begin to lose spiciness. If stored, the sauce typically has a best-by date of approximately 6 months.
Minimum Order of 10
PICK UP LOCATION:
St. Elmo Steak House
127 S Illinois St
Indianapolis, IN 46225
After checkout you will select the day & time for your pickup.
At pickup, bring the Order# ( Order# will be listed on confirmation email )

$50 Bonus Cards for each 50 boxes ordered will be shipped to the billing address provided.
---
Regular price
Sale price
$29.95
Unit price
per
Sale
Sold out
SHIPS FRON INDIANA
Orders processed within 1 business day
FREE SHIPPING on orders $39+
Fast free shipping for US orders
Packed to Stay Fresh
Shipping
Free nationwide shipping on all orders over $39.
Orders are processed & shipped from Indiana within 1 business day and packed for freshness.
Once shipped, expect your order to arrive within 1-3 business days.
View full details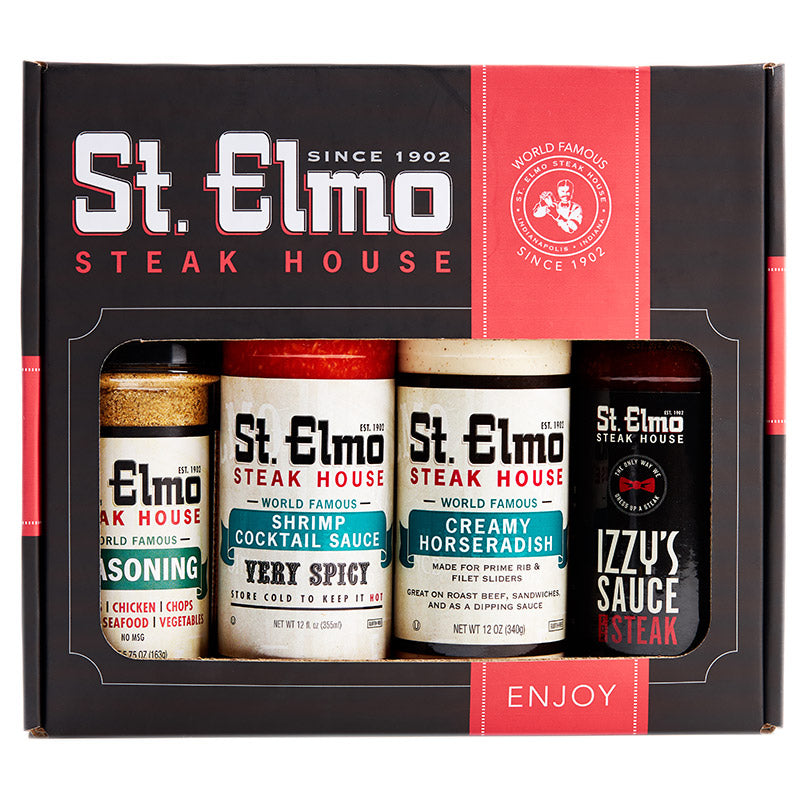 FREE SHIPPING AT $39
US and Canada
SERVED IN THE RESTAURANT
A taste of Indy at home
NATIONWIDE SHIPPING
Ships from our Indiana Facility
WORLD-FAMOUS SINCE 1902
Thanks to our nationwide community
Gifts from the steak house.
We've bundled our most popular sauce and seasonings into sets that ship for free
Live in Indiana?

Give a gift card instead! For use at. St. Elmo Steak House, Harry & Izzy's, 1933 Lounge or HC Tavern + Kitchen

Gift Cards
HOT. SPICY. REVIEWS.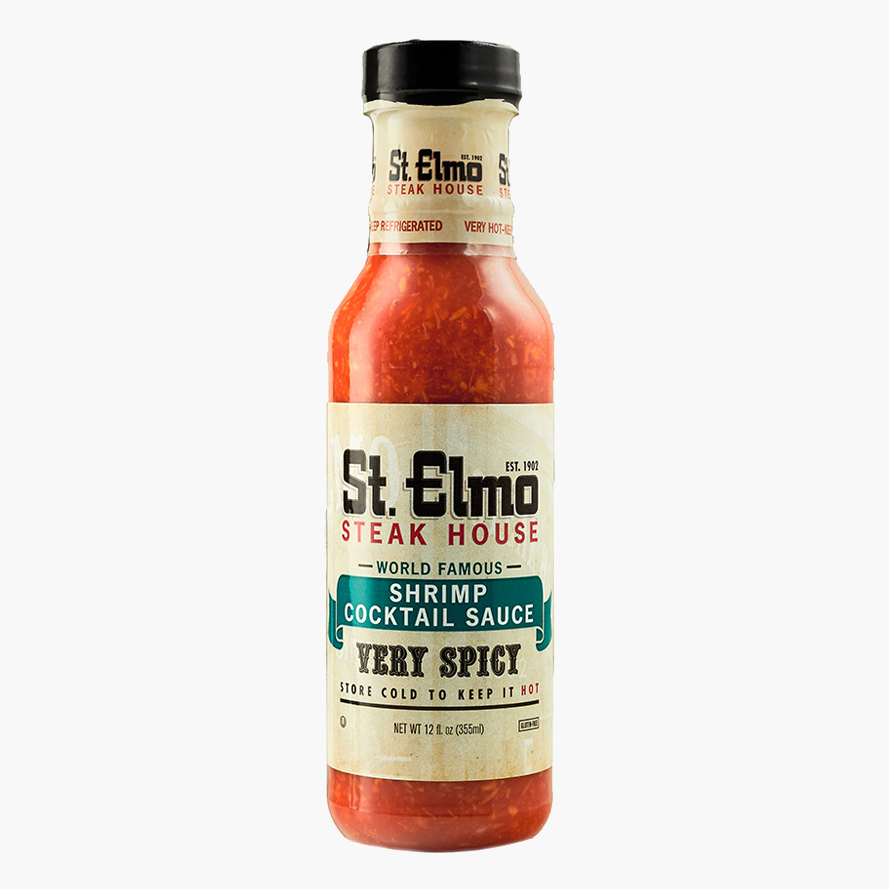 Incredible Cocktail Sauce!
First time I tried this was at the steakhouse in Indiana and I had to have more! Everyone loves it!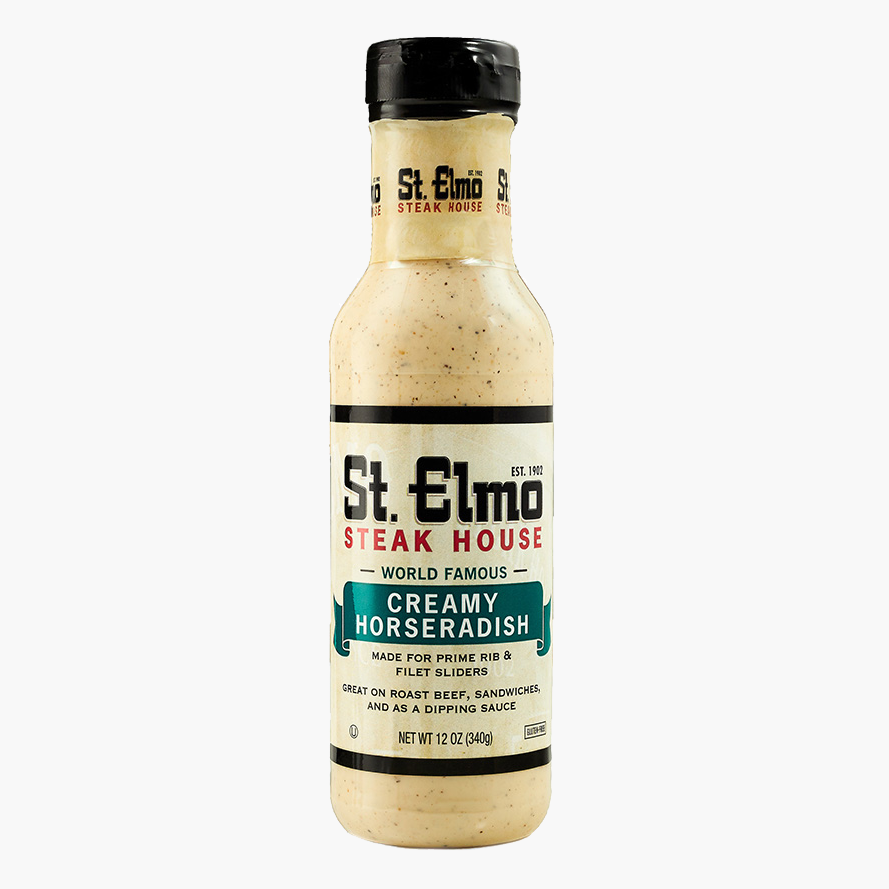 Zing
I have a love of horseradish sauces, and have tried many, but St. Elmo's is the best, have almost finished my first bottle and the "bite" is a good in the last 1/2 ounce as the first taste. Most other horseradish sauces fade down the stretch.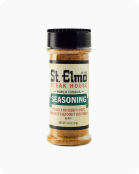 Best steak seasoning I've ever tried
I've stopped wasting my time and just use St. Elmo's every time. And my family and everyone I feed, especially myself, loves it every time. I could not recommend it any more highly.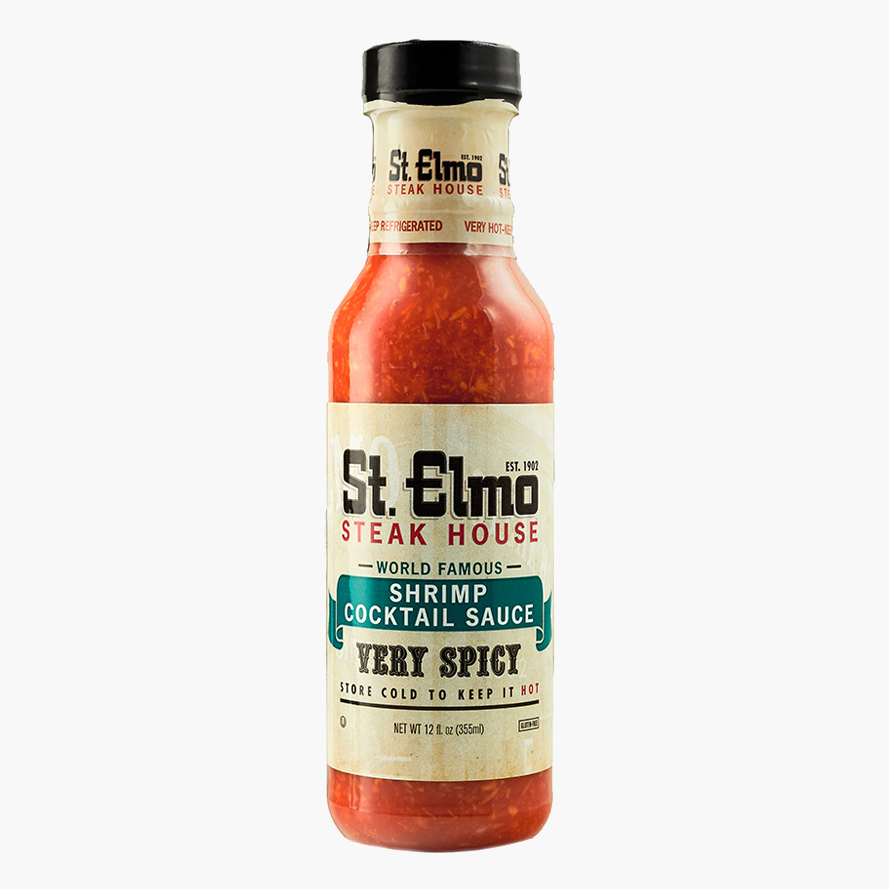 BEST COCKTAIL SAUCE EVER!
I stumbled upon this cocktail sauce a couple years ago, I order every month since then. Flavor is perfect and a very sicey kick which is essential to a great cocktail sauce! You don't need to use much to get that kick! My wife prefers to add a little ketchup to it to tame it down. I love it right out of the bottle!

Loved everything and getting more!
Sure wish I had known about y'all sooner. Thanks for such great products!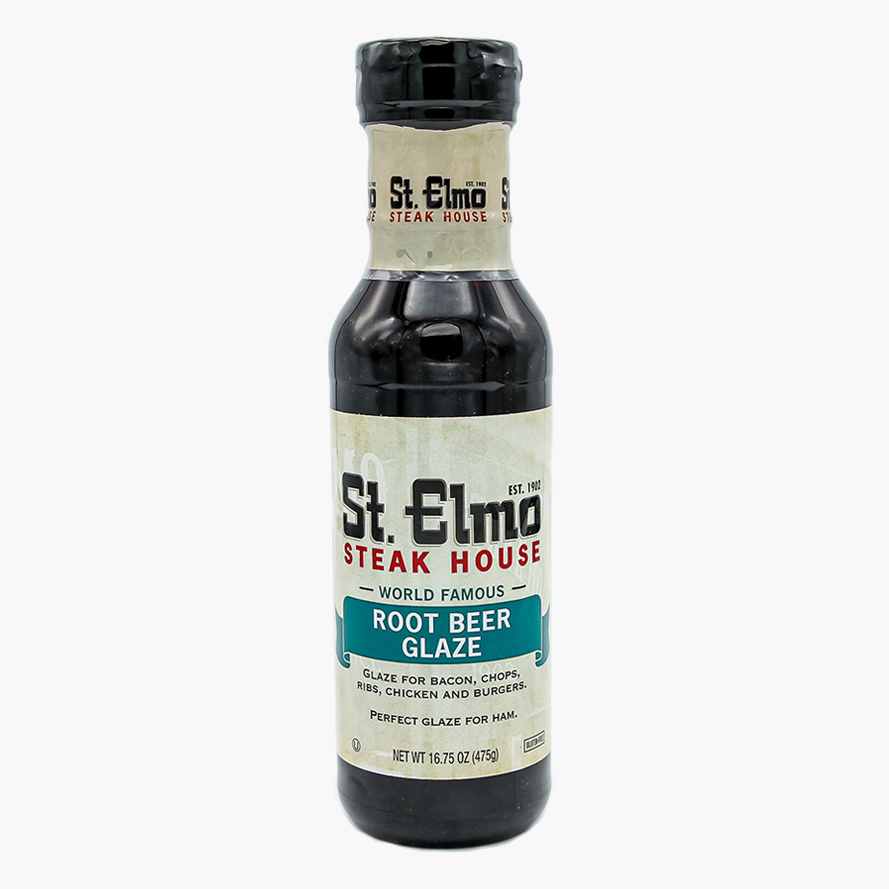 Sweet. Savory. Perfection.
YUM. The glaze packs heat and a hint of sweetness. A sauce I never knew I needed.
About St. Elmo
SINCE 1902
Since our inception in 1902, St. Elmo Steak House has become world-famous for professional service, perfectly aged steaks, fiery shrimp cocktail and award-winning cocktails.
4 FAMOUS RESTAURANT BRANDS
Enjoy Indiana's finest at St. Elmo Steak House, Harry & Izzy's, 1933 Lounge or The HC Tavern + Kitchen.
WORLD'S HOTTEST COCKTAIL SAUCE
We've received national acclaim for our "sinus-clearing" cocktail sauce which has become world-famous for its one-of-a-kind heat.
TASTE THE TRADITION
A dinner at St. Elmo Steak House traditionally begins with our famous St. Elmo Shrimp Cocktail – served since 1902.