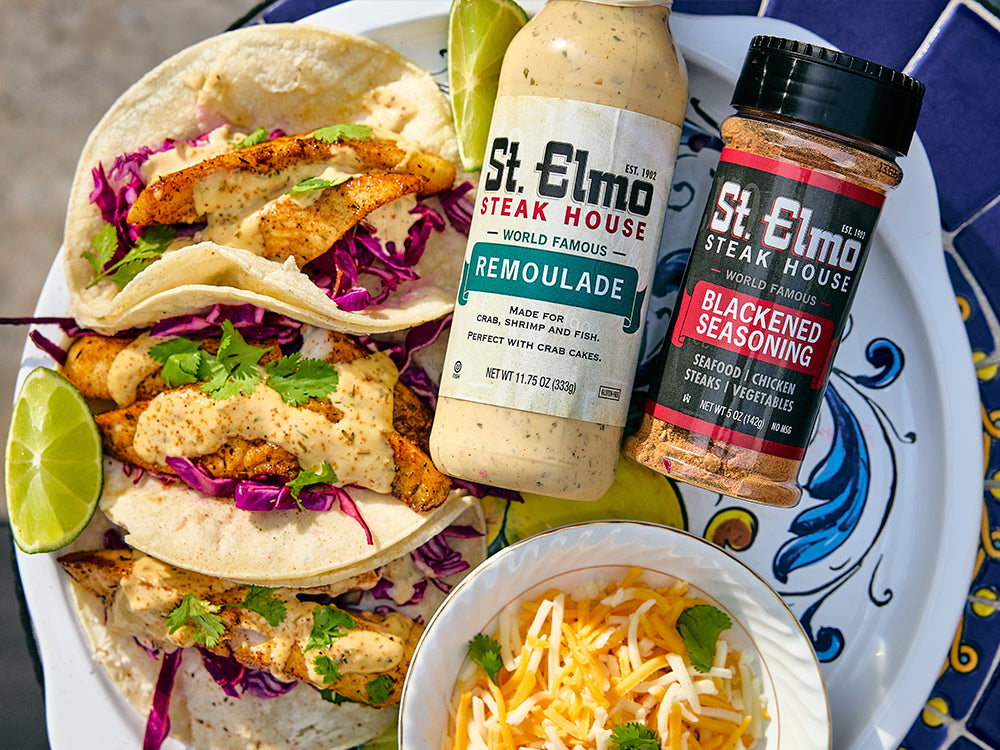 INGREDIENTS
4 (6-oz.) tilapia filets or other firm white fish
2 tbsp. extra-virgin olive oil
St. Elmo Blackened Seasoning
St. Elmo Remoulade
Corn tortillas
Cilantro
FOR RED CABBAGE SLAW
1/2 red cabbage, thinly sliced
2 tbsp. extra-virgin olive oil
Juice of 1 lime
Kosher salt
Freshly ground black pepper
INSTRUCTIONS
1. Slice tilapia or other firm white fish filets lengthwise, across the grain into 1" wide strips.
2. Lightly oil, then season generously with St. Elmo Blackened Seasoning.
3. Brown fish in a non-stick skillet over medium heat with 1-2 tbs of oil, 3-5 minutes, turning often. Set aside.
4. Red Cabbage Slaw - cut red cabbage thinly into slaw to yield 2 cups. Season with salt and pepper to taste. Drizzle with freshly squeezed lime.
5. Build tacos - place red cabbage slaw onto warmed corn tortillas. Add 1-2 pieces of blackened fish. Top with St. Elmo Remoulade and fresh cilantro. Add a squeeze of fresh lime and more St. Elmo Steak House Blackened seasoning.